04-08-22
WMI gets funding for MQV Lighthouse Projects
Basic research projects in quantum science and technology are essential to keep Bavaria's leading role in this field. Therefore, the Free State of Bavaria provides funding for five interdisciplinary Lighthouse Projects with a total budget of about 17 million euros as part of the Munich Quantum Valley (MQV). The projects involve groups of BAdW, MPG and several universities, thereby particularly fostering cross-university collaborations within Bavaria. "We are very happy that WMI can contribute to the ambitious projects NeQuS and IQSense", WMI director Rudolf Gross says, who was strongly supporting the idea of basic research oriented Lighthouse Projects in the application phase of MQV.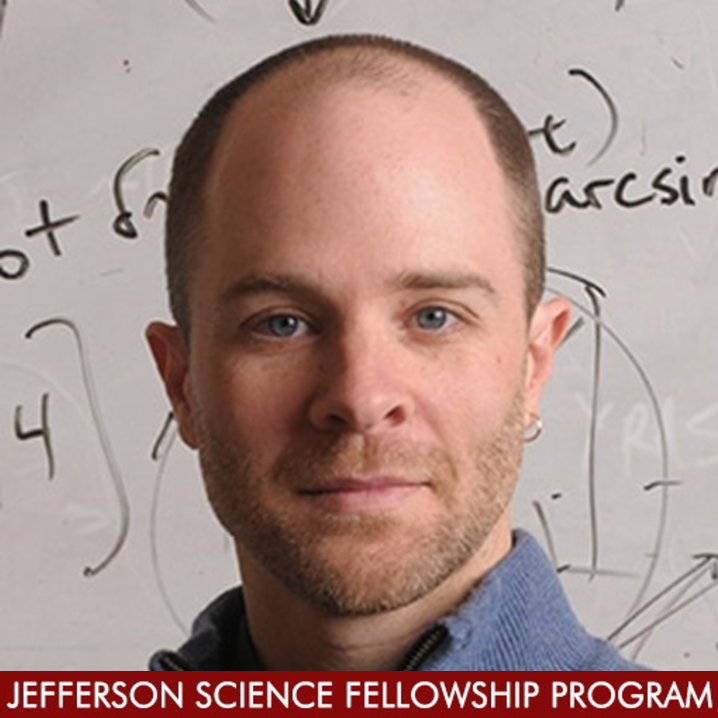 21-07-22
Lincoln Carr visits WMI
Lincoln Carr, an expert in quantum science and technology (QST), who has been named a Jefferson Science Fellow with the U.S. State Department, was visiting WMI to inform himself on the Munich QST activities within MQV and MCQST. He presently serves as a foreign affairs officer in the State Department's Office of Science and Technology Cooperation and discussed possible international collaborations in QST with WMI director Rudolf Gross.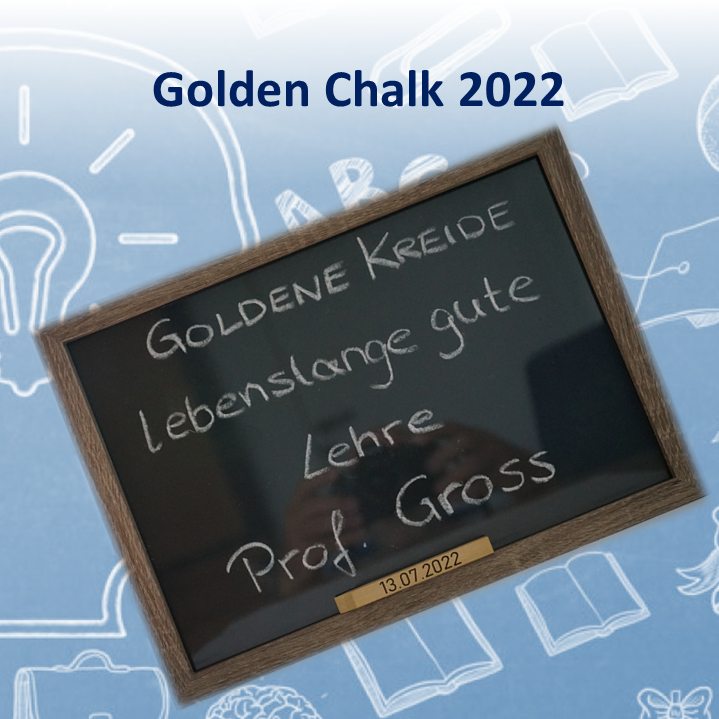 13-07-22
"Goldene Kreide" awarded to Rudolf Gross
During the annual celebration of physics, the student body of the TUM faculty of physics regularly awards the so-called "Golden Chalks" to reward excellent teaching. After already receiving several Golden Chalks in previous years for lectures in the bachelor and master courses, this year Rudolf Gross received a special Golden Chalk to acknowledge his outstanding and continuous engagement in teaching over the past two decades.
07-07-22
Visit by Dr. Harald Mahrer
State of the art in quantum technologies, the Bavarian quantum roadmap, and the role of WMI in the endeavor of building a full-stack quantum computer. These were some of the topics discussed on wednesday when the president of the Austrian Federal Economic Chamber, Dr. Harald Mahrer, visited the institute.

During the visit, Dr. Stefan Filipp touched upon the future use cases of quantum computers in science and industry, the current challenges in their development and implementations, and the initiatives across Bavaria, Germany, and Europe that are striving to make quantum computers a reality.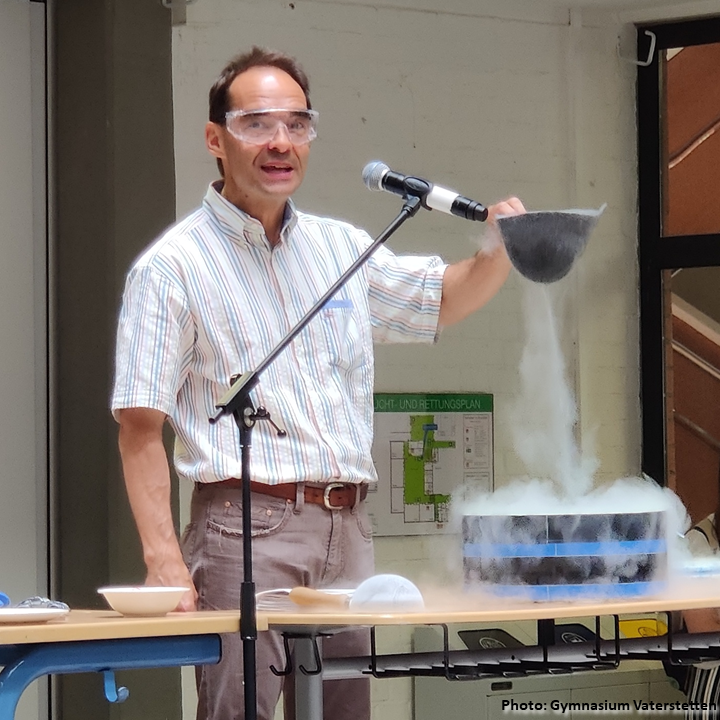 21-06-22
Pupils get enthusiastic about physics
WMI scientists regularly make public outreach events for grammar-school pupils either at WMI or at nearby high schools to increase their interest in natural sciences. On 21st June, Matthias Opel was putting his exciting low-temperature show on stage at the Gymnasium Vaterstetten, where Sebastian Bauer - a former WMI master student - is teaching physics. Besides showing the fascinating properties of liquid gases and having fun with low temperature physics, the experiments give the pupils insight into applications of low temperatures in research and technology.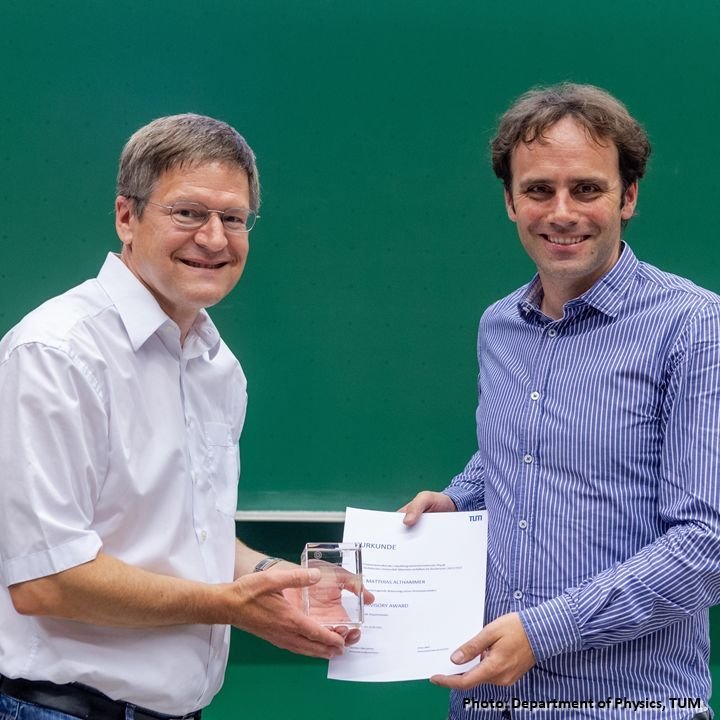 20-06-22
Matthias Althammer receives TUM Supervisory Award
Dr. Matthias Althammer received the Supervisory Award for his excellent mentoring of Ph.D. students at WMI. The selection committee selected him among several suggested candidates. Beyond meeting the typical selection criteria like excellence in leadership, scientific support, education and career development for Ph.D. students, Matthias always succeeds to establish and maintain a friendly work atmosphere stimulating the exchange and development of scientific ideas. We cordially congratulate Matthias Althammer on the recognition of his efforts in suporting Ph.D. students. "As the Scientific Director, I am particular happy that WMI researcher regularly receive best teaching and mentoring awards", Rudolf Gross points out.
10-06-22
New Professorship on Applied Quantum Theory at WMI
The universities in Augsburg, Würzburg, Erlangen-Nuremberg and Munich, as well as the technical universities of applied sciences in Regensburg and Nuremberg, receive around 20 Mio. € for new professorships to further strengthen their profile in quantum sciences and quantum technologies. The program is part of the High-Tech Agenda Bavaria within the Munich Quantum Valley e.V. "We are very happy to get support by a new professorship on Applied Quantum Theory", WMI Scientific Director Rudolf Gross says. The professorship will be assigned to TUM and jointly appointed by TUM and BAdW.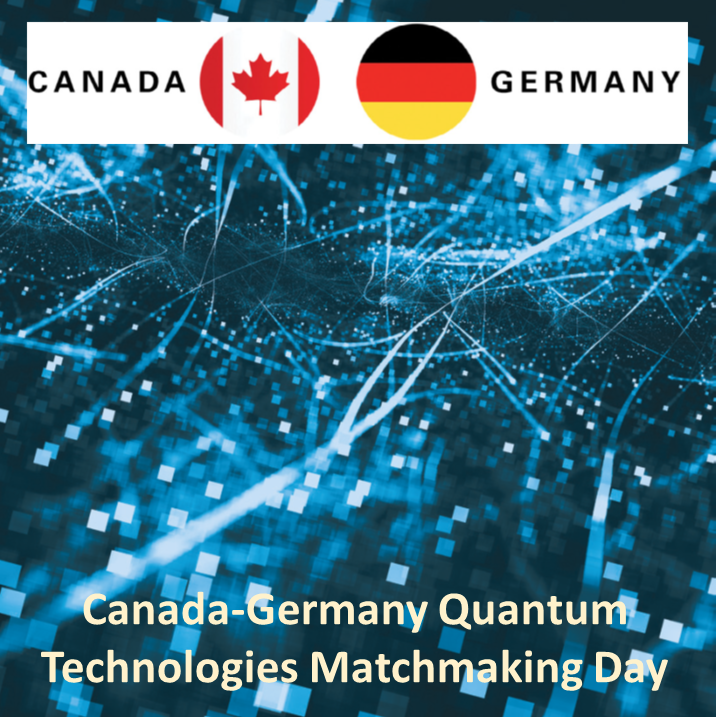 03-06-22
Canada-Germany Quantum Technolog Matchmaking Day
From May 30 to June 3, a delegation including representatives of 10 Canadian Quantum SMEs was visiting Germany to develop R&D partnerships. The meeting was jointly organized by the Embassy of Canada, the Munich Quantum Valley e.V. and the Excellence Cluster MCQST. "It was exciting to meet and partner with Canadian quantum technology leaders and chat with stakeholders of both countries", Rudolf Gross of WMI says. "It was a perfect opportunity to learn about Canadian quantum-technology capabilities and how they could complement our efforts in Munich", he adds.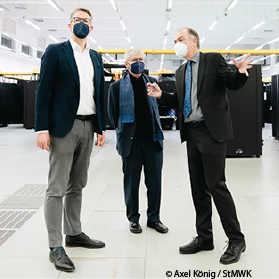 25-04-22
Minister of State Blume visits BAdW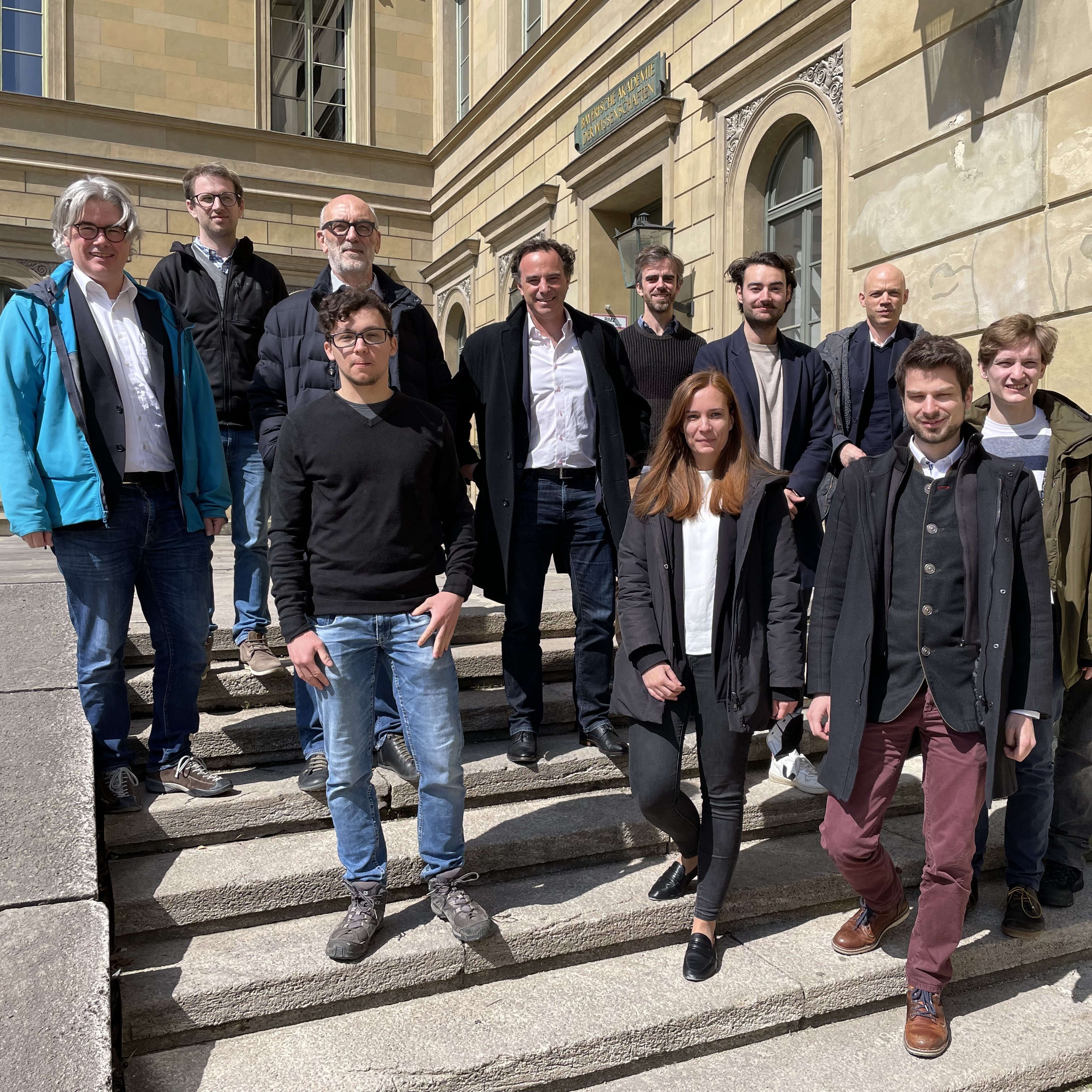 11-04-22
Quantum Science meets Gravity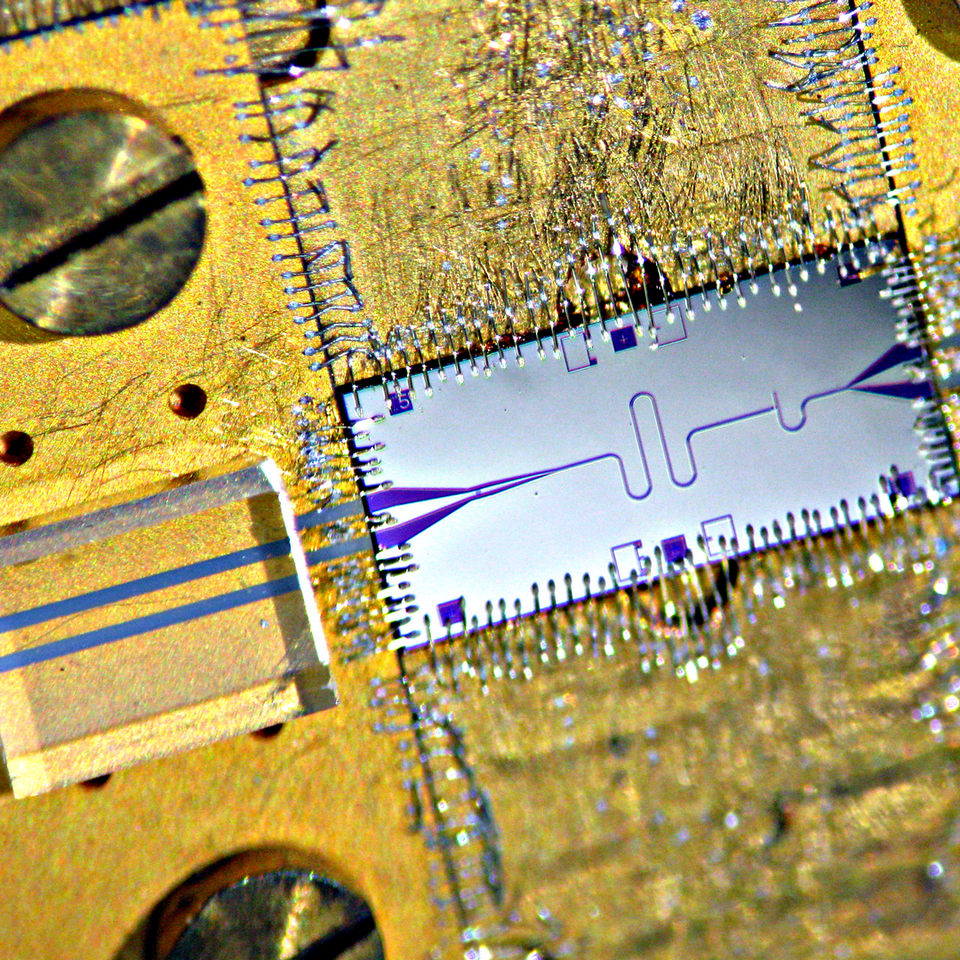 01-04-22
Grand Challenge Quantum Communication
Within the program, which is part of the framework program of the German federal government on IT security, seven projects, including the WMI project QuaMToMe, receive funding for a 3-year period. In his welcome speech the Parliamentary Secretary of State Dr. h.c. Thomas Sattelberger said: We have to work on the future IT security already today. Therefore, by the competition "Grand Challenge in Quantum Communication" the Federal Ministry of Education and Research wants to speed up the development of quantum based techniques. Three teams of the group of Rudolf Gross, led by Nadezhda Kukharchyk, Kirill Fedorov and Hans Huebl, participate in the competion.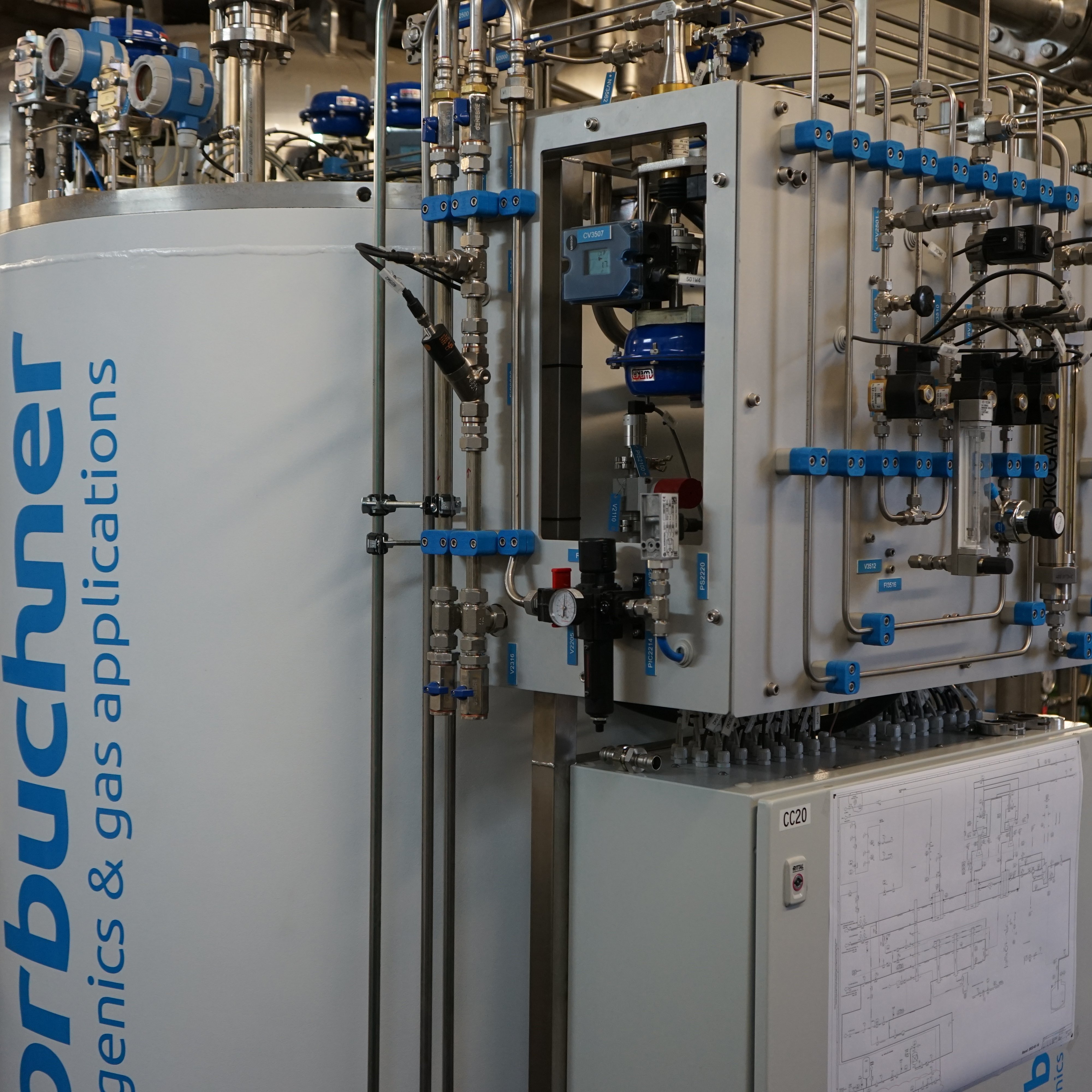 30-03-22
New Helium Liquefier successfully installed at WMI
A new helium liquefier of Vorbuchner GmbH has been installed at WMI and taken into operation. The 2.5 Mio.Euro investment secures the future LHe supply of WMI and the two Munich universities. Already the first cool-down has been successful and delivered liquid helium. In the coming weeks there are still several optimization and testing precedures to be performed until the final approval of the machine. However, due to a clever operation concept the parallel operation of the old liquefier is possible in the transition phase guaranteeing a continuous supply with LHe.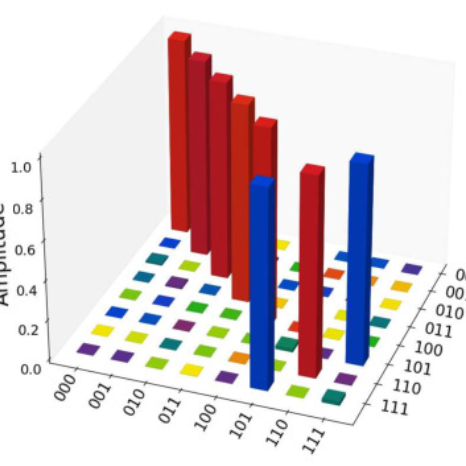 03-02-22
Quantum algorithms often benefit from the ability to execute multi-qubit gates. To date such multi-qubit gates are typically decomposed into single- and two-qubit gates, particularly in superconducting qubit architectures. The ability to perform multi-qubit operations in a single step could vastly improve the fidelity and execution time of many algorithms. Here, we propose a single shot method for executing an i-Toffoli gate, a three-qubit gate with two control and one target qubit, using currently existing superconducting hardware and show numerical evidence for a process fidelity over 99.5%.
27-01-22
Munich Quantum Valley e.V. established
Only one year after the declaration of intent by the Bavarian State Government, the Munich Quantum Valley has now been formally established as a registered socity with the ceremonial signing of the foundation charter on the premises of the Bavarian Academy of Sciences and Humanities. Complementing the funding from the High-Tech Agenda Bavaria amounting to 300 million euros, the members of the initiative have already raised federal funding of more than 80 million euros.
25-01-22
Open Electrical Engineer position (m/f/d)
Building a quantum technologies based on superconducting quantum elements is our goal at the WMI. We are looking for you to strengthen and join our activities.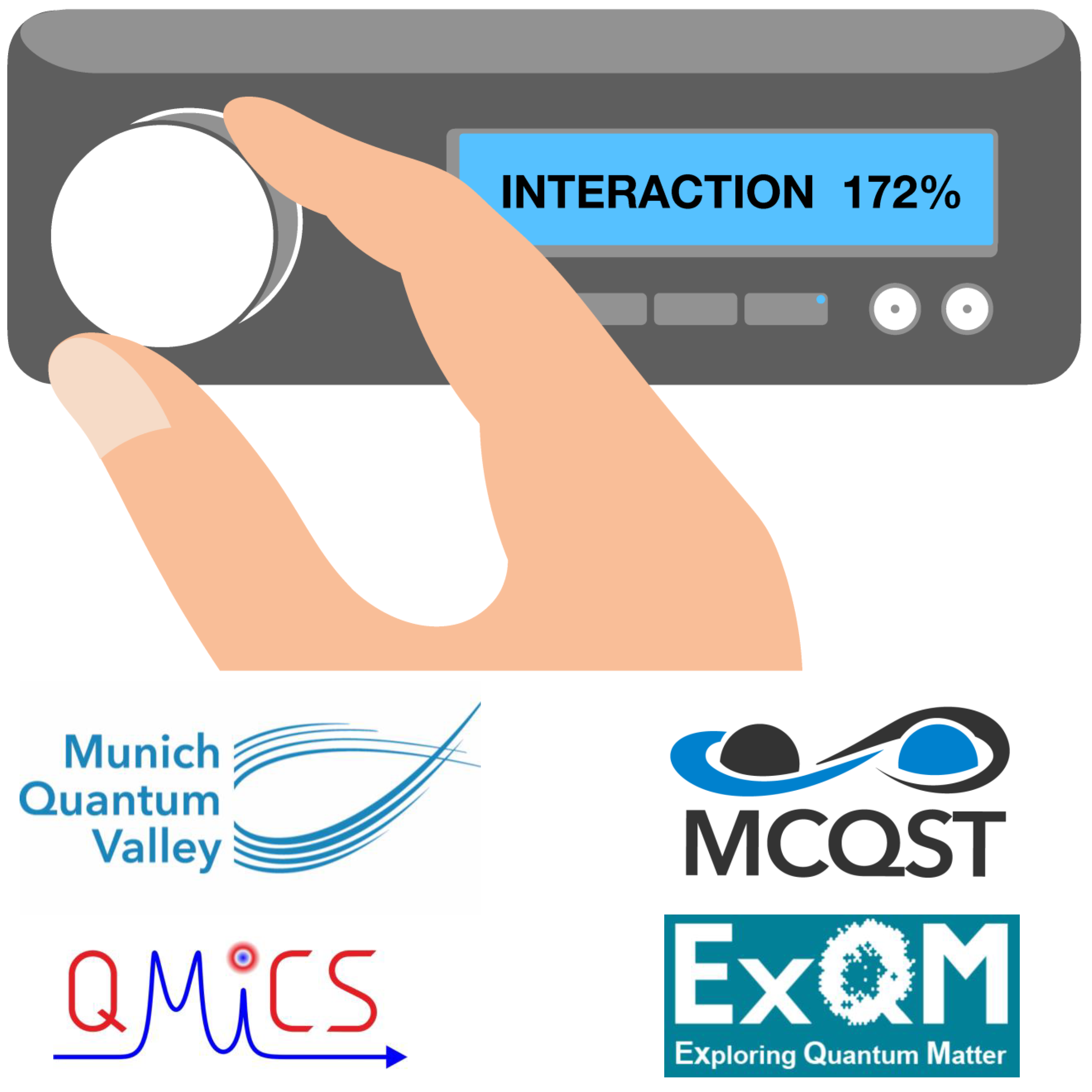 03-01-22
Switching on and off a well-controlled coupling between circuit parts is essential in quantum technology. We propose a novel tunable coupling scheme consisting of N fixed-frequency qubits. We show that the interaction between two general quantum circuits can be tuned by inserting an ensemble of qubits as a mediator and engineering them in different dark states. Most interestingly, we find that a large qubit ensemble can make the effective interaction even larger than the physical interaction between two adjacent circuit components.
22-12-21
Quantum Teleportation
An international team headed by physicists from the Walther-Meißner-Institute (WMI) and Technical University of Munich (TUM) has, for the first time ever, experimentally implemented quantum teleportation based on propagating microwave signals between distant locations while preserving the fragile quantum nature of teleported states. This key achievement opens the avenue towards distributed quantum computing in networks of superconducting quantum computers. The work has been performed in collaboration with Japanese scientists from the RIKEN Center for Quantum Computing.
17-11-21
Characterization and Tomography of a Hidden Qubit
In state-of-the-art quantum computing systems, each quantum bit can be individually controlled and measured. Large systems of qubits thus require a large amount of control electronics and signal lines, which are costly resources. One way to increase the number of qubits without also multiplying auxiliary resources is simply to add "hidden" qubits that are not directly controlled or read out. These are operated indirectly, using interactions with their neighboring qubits and do not require a separate control line. In our experiment, we demonstrate full control over a superconducting two-qubit system even though only one of the qubits is directly addressable.
03-11-21
Science outreach
Within the Marie Curie european network QuSCo, our students Federico Roy and Max Werninghaus collaborated with colleagues from various fields to apply optimal control to quantum systems. Over the course of the three-year program, the ESRs were trained in science education and outreach. Check out the playlist on youtube to learn more about how we approach science education!
https://www.youtube.com/playlist?list=PL27WF9AICrThEi_9ElvmdmJzU5CmvF6fR
10-10-21
WMI Supports the Scientific Program of "FORSCHA"
Discover what moves the world! This was the motto of the Münchener Wissenschaftstage 2021, taking place at the Deutsches Museum Verkehrszentrum from October 08 to 10. Rudolf Gross of WMI supported the scientific program of the event by a public talk on quantum computing and the Excellence Cluster MCQST was informing the public on its research activities at a booth.
The Münchener Wissenschaftstage offered an adventure trip throught the fascinating world of science and technology. The visitors could get first-hand information on newest developments in science, technology, economy, world of work, education, art and culture. Quantum science and technology was one of the topics attracting the biggest audience, demonstrating the large interest of the public in hightech.
01-10-21
3 open PhD positions (m/f/d)
targeted with the experimental realization of microwave quantum token with quantum memory based on spin ensembles
01-10-21
Munich Quantum Valley receives funding
The Bavarian State Ministry of Science and Arts annouced funding of 80 Mio. euros for the Munich Quantum Valley (MQV) for 2021-2026. The ambitious goal is to develop the hard- and software for quantum computers. The WMI takes a leading role in the ambitious journey towards the realization of superconducting quantum computers.
"Bavaria aims to take the lead in quantum research and the application of quantum technologies in Germany and Europe", State Minister Bernd Sibler says. By establishing the Munich Quantum Valley, Bavaria will bundle its already outstanding scientific competences in the Munich area and establish a powerful ecosystem joining researchers, engineers, industrial leaders and venture capitalists. This goal will be supported by a matching funding program of the State Ministry of Economics. "Important future technologies and apllications should come from Bavaria. Therefore, the funding for MQV represents an important investment into Bavaria as a leading high-tech region", State Ministery Hubert Aiwanger points out.
14-09-21
WMI bids farewell to Prof. B.S. Chandrasekhar
WMI mourns for Prof. B.S. Chandrasekhar who died on 12th September 2021 at the age of 93. He had been guest professor at WMI since 1988 and contributed to the success of many research projects by his creativity and deep knowledge of physics. We will honor his memory and remember him not only as a great scientist but also as a charming and humorous colleague.
B.S. Chandrasekhar studied physics at the Universities of Mysore and Delhi and received his Ph.D. from the University of Oxford in 1952. He then became research associate at the University of Illinois at Urbana Champaign (1952-54) and visiting scientist at the University of Oxford (1954-55). In 1955, he joined the Westinghouse Research Labs, where he did his well-known work on the upper critical field of type-II superconductors (Chandrasekhar-Clogston limit, 1962). In 1963, he became professor of physics at the Case Western Reserve University in Cleveland, where he has also been department chair, dean and vice president. He retired from CWRU in 1988. He also was guest professor at the University of Cambridge (1978), the Tata Institute at Bombay (1980), the ETH Zurich (1980-81) and the WMI (1984-85). After retiring from Case Western Reserve University he joined WMI as a permanent guest researcher in 1988.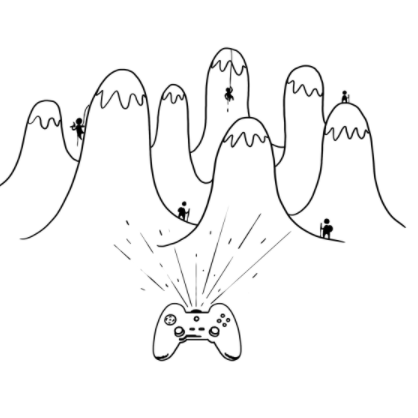 08-09-21
Quantum Technology Outreach Event QuantTech
We are hosting a quantum technology event organized by our partners at QuSCo: get to know quantum technology researchers and their work in a casual setting. Chat with quantum researchers and learn about quantum sensing with hands-on tools. The visit will also include brief visits of our quantum computing laboratory, which hosts the latest iterations of WMI-built quantum processing chips. Join us on September 8 at our Institute in Garching, Munich.
For more information visit the registration site: https://docs.google.com/forms/d/e/1FAIpQLSdZUDpWaK1JdMJOadV_3W5sZUC_M0rZJ34IlpfnYNWdkJGHpg/viewform.
23-07-21
Congratulations to Philipp Krüger
Philipp Krüger of WMI has been awarded a Best Poster Prize for his excellent poster contribution on "Microwave Quantum Key Distribution in a Noisy Environment" presented at the International Conference on Quantum Science & Technology organized by the Excellence Cluster MCQST.
The Best Poster Award has been handed over within the Award Ceremony Session on 23 July 2021 together with a prize money donated by Menlo Systems GmbH.
03-07-21
Obituary for Johneph Sukham †
On July 3, Johneph Sukham died in a tragic accident. We feel great sadness and will miss Johneph as an inspiring colleague and friend. RIP.
13-06-21
Welt der Quanten
There is a tremendous progress in quantum research and the development of quantum technologies, and their application potential is huge. In a focus issue of the journal "Akademie Aktuell" scientists of the Walther-Meißner-Institute explain the present research directions in quantum science and technology. They also discuss the future impact of quantum technology for all of us.
Munich is on of the internationally leading centers for quantum science and technology. This leading position has been further strengthened by the start of the excellence cluster Munich Center for Quantum Science and Technology (MCQST) in 2019 and the foundation of the Munich Quantum Valley (MQV) in 2021. The latter will be supported by the Bavarian state government by 300 Mio. Euro. The Walther-Meißner-Institute is one of the key players pushing the dynamic development since almost two decades.
29-03-21
Federico Roy, Nicolas Wittler and Max Werninghaus in a collaboration between Saarland University, IBM Research, Forschungszentrum Jülich and WMI describe how optimal control methods can be used in system characterization to achieve a "Good Model". They outline a new method for Control, Calibration and Characterization (C3) of quantum devices based on the complete understanding of the system and using optimal control. C3 provides us with the tools to achieve this goal and push us further in the quest for high-fidelity quantum devices.
Integrated Tool Set for Control, Calibration, and Characterization of Quantum Devices Applied to Superconducting Qubits
Nicolas Wittler et al., Phys. Rev. Applied 15, 034080 (2021).
04-03-21
Munich Quantum Valley Kick-Off
To build a quantum computers that can solve complex scientific and economic problems faster than any supercomputer; to create infrastructures that facilitate technology transfer and the exchange of ideas in the field of quantum sciences; to offer excellent education and training opportunities for the specialists of tomorrow.
Learn more about the Munich Quantum Valley Initiative, about the status quo of quantum technologies in Bavaria and about the future opportunities that will arise for Bavaria through the development of these disruptive technologies: Thursday, 04 March 2021 from 10 am - 12 pm (CET) via livestream on Youtube.
29-01-21
Quantum Computing in Germany
Building a quantum processor with novel properties based on superconducting qubits - this is the aim of the four year project GeQCoS ('German Quantum Computer based on Superconducting Qubits') funded by the BMBF that we aim to realize at the WMI (Bavarian Academy of Sciences) in collaboration with Infineon Technologies, University of Erlangen-Nuremberg, University of Karlsruhe and Fraunhofer-Gesellschaft.
11-01-21
Munich Quantum Valley
The Bavarian Academy of Science and Humanities, the Fraunhofer Society, the Max Planck Society for the Advancement of Science and both Munich Universities LMU and TU Munich join forces to estalish the Munich Quantum Valley to push forward research and innovation in quantum technologies and quantum computing.